Attractions and Distances:
Rolling Hills estate is surrounded by countryside, woods and tranquil lakes but in contrast is only 2 1/2 miles away from Disney World.  Sea World, Universal Studios, Wet & Wild, International Drive, Gatorland are all situated within a 15-20 minute drive.  Downtown Orlando, Florida Mall and Church Street Station are under 25 minutes.  Tampa and Busch Gardens can be reached within 45 minutes.  There is a modern Plaza within 1 minutes by car with a 24 hour supermarket, restaurants, tourist information and other shops for your convenience.  The estate is an easy 25 minutes from Orlando International Airport and directions can be supplied.  There are many Malls within the Kissimmee area most within 15 - 20 minutes driving distance.  You could also play golf at one of the many courses in the area.  The Atlantic coast and Gulf coast are also within easy reach for the beach enthusiasts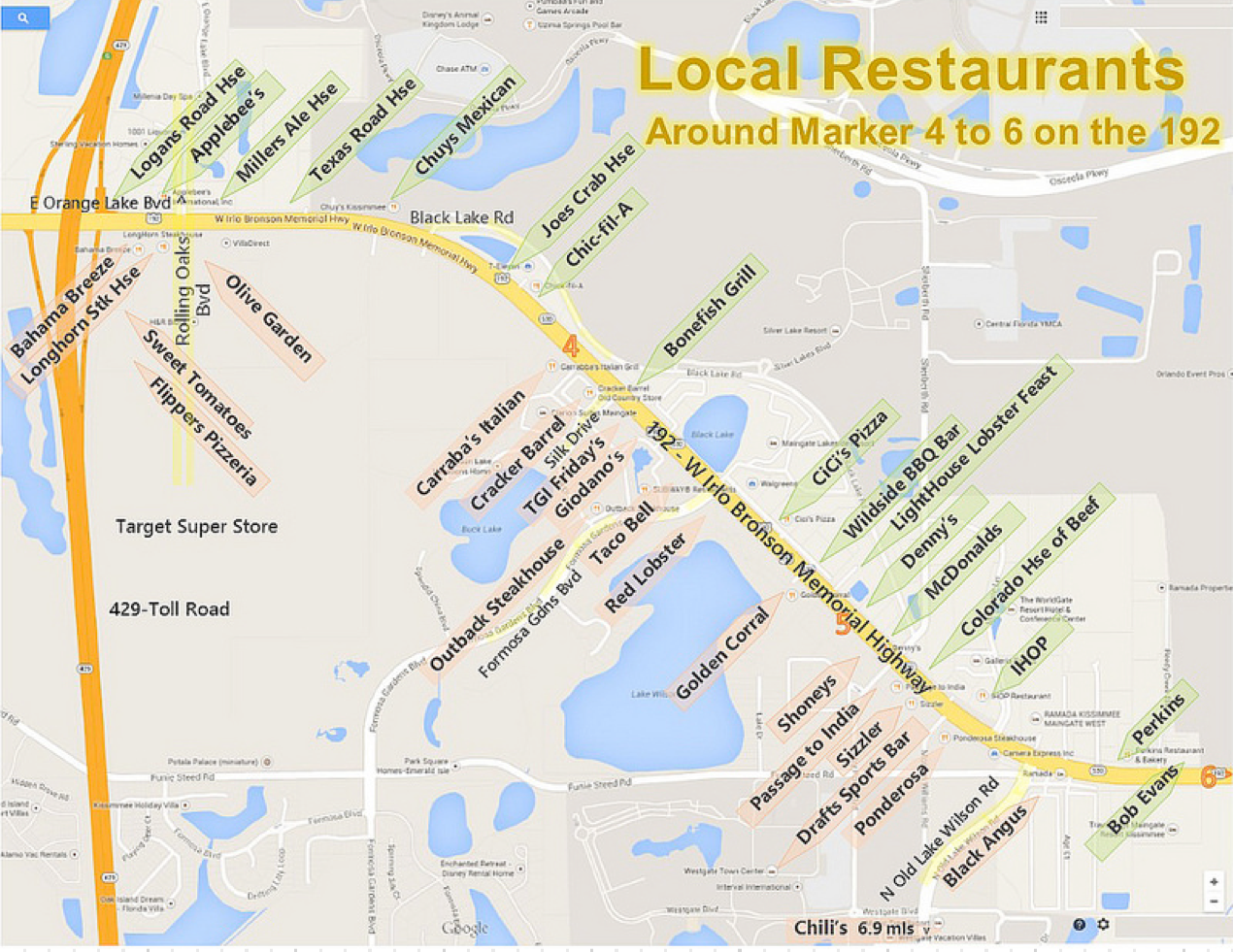 HWY192 – West Irlo Bronson Memorial Highway (Kissimmee)
The 192 has always been the fun highway of Kissimmee. To ensure the area did not grow in a haphazard manner, over a decade ago, the Chamber of Commerce decided to spend over $23 million dollars beautifying the area, adding Disney inspired landscaping and road improvements. To aid navigation the 15 mile stretch running east from U.S. Route 27 (HWY27) was divided into 1 mile segments and ornate mile markers erected and whilst the improvements run from Marker 4 to 12 in the east it was the eastern portion, around Kissimmee, where most of the activity centered, with the west end being mainly undeveloped apart from a few old favourites like the Golden Corral, Carrabba's Italian Grill and The Olive Garden.
Over this period most of the new holiday home development has been in the west either south of the 192 or along Route 27. With this increased traffic the need for more facilities has resulted in an explosion of development in the 2 to 3 mile stretch of the road around marker 4 to marker 6, with the number of restaurants exceeding 36. No longer do you have to go up to International Drive to visit Bahama Breeze or LongHorn Steakhouse. Lots of the well-known chains now have a restaurant here too, plus there is now a Super Target and West Gate Flea Market open, possibly making this the fastest growing area in Florida.
From Around Mile Marker 4 to Mile Marker 6 there are over 36 restaurants. More restaurants have opened on this stretch of the 192 in the last couple of years than the rest of the 15 mile stretch of the Highway.
The 192 runs from HWY 27 in the West right the way through to Melbourne on the East Coast. For most of its route, US 192 is the Irlo Bronson Memorial Highway, named after former state representative, senator and cattleman Irlo O. Bronson, Sr. It is also known as Space Coast Parkway, as it leads to the Space Coast.